Diamond Peak Idaho - East Ridge
---
Destination: Diamond Peak, ID (12,197')
Date: August 18, 2013
Starting Point: East Flank (ca.8000')
High Point: Diamond Peak Summit (12,197')
Round Trip Distance: 5 Miles
Equipment: The ten essentials
Difficulties: Route finding, class 3 scrambling
About 2 hours south of Salmon Idaho and just a mile or two past the wide spot in the road known a Lone Pine, I took a right turn off of Idaho Highway 28 onto Pass Creek Road. I was hoping this road wouldn't require a high clearance 4 wheel drive vehicle like I had read because I was still a long way from the base of Diamond Peak, the 4th highest peak in Idaho. At just under 2 miles I took another right which immediately fords the trickle of water known as Pass Creek. I followed this road for approximately 7 miles passing through a couple of gates until I arrived at a small saddle with a fire ring and the remains of the road barricade at ca.8000 Feet (44.1480N, 113.0373W). With care and some crafty driving your standard intermediate SUV should get you there, and back...
Diamond Peak from the East flank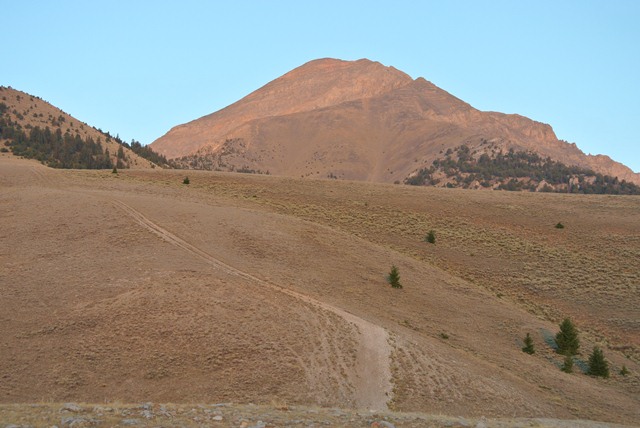 I began hiking the road which gets steep and looser than I was willing to chance driving up. In about a quarter mile the track became more of a path than road then finally disappeared near at the edge of a stand of trees. From there the route makes a rising traverse though open grassland and trees to a small saddle at about 9400 Feet. Once at the saddle the route follows the ridge where there is a path in the scree that leads to a flatter NW trending section of the ridge at 10,400 Feet.
Bell Mountain from the East Ridge of Diamond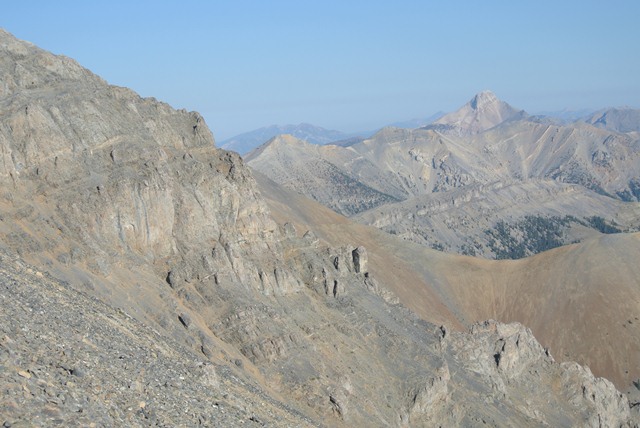 At about 10,800 the ridge curves back to the west and the scrambling soon follows. The crux is fairly early on in the scrambling which is a solid class 3 section. Beyond that there is a fair amount of pleasant class 2 and 3 scrambling which made time and elevation go by quickly. By 10 AM I was standing on the summit. Unfortunately, there were several fires burning in Idaho so the views were obscured by smoke.
Approaching the upper East Ridge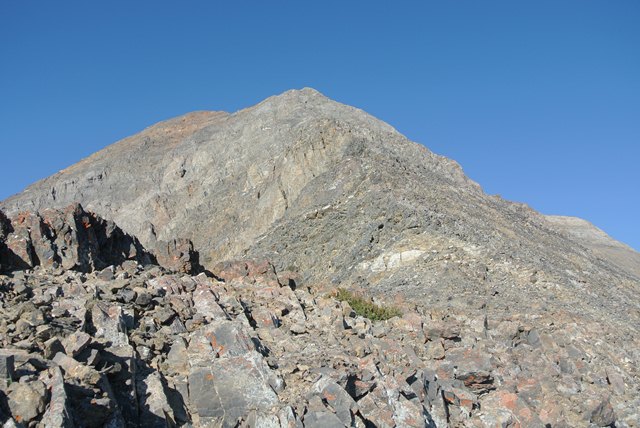 View to the East from the summit of Diamond Peak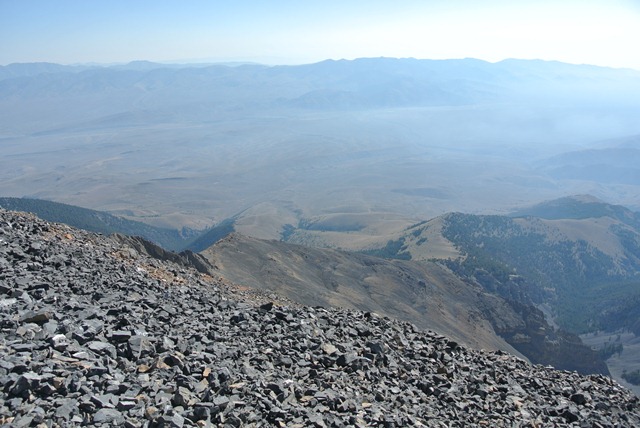 I returned via the same route. It took about 2.5 Hours to return to the "trailhead" from the summit. A nice scramble to the summit of one of Idaho's 9 summits over 12,000 Feet high.
References: